Stickers for toilet signs
Among the struggles of living as a nonbinary person, one of the most annoying daily difficulties is the impossibility to go to toilets in the majority of public spaces. Most places still have toilets with only two gender options (men/women) and there are no options for people who don't belong to any of these genders.
It's not only a matter of signs but also the tendency of many people to police those spaces and exclude or kick out of these toilets whoever doesn't fit the expected gender expression of whoever should be read as "man" or "woman" to be able to access them. In many places, we will be simply kicked out of these spaces. In many others, we will be denied entrance. This happens in most public spaces.
In Germany, even though the third gender option is a reality for some years and it's illegal to discriminate against people based on gender identity, we can count with our hands the spaces that facilitate gender-neutral toilets.
Our meetup had the wish for a long time to do something about this, and in January this year, Kai facilitated a workshop to help us brainstorm solutions. The group came up with the idea to create stickers and do some designs we can use to signal those bathrooms that exclude nonbinary people.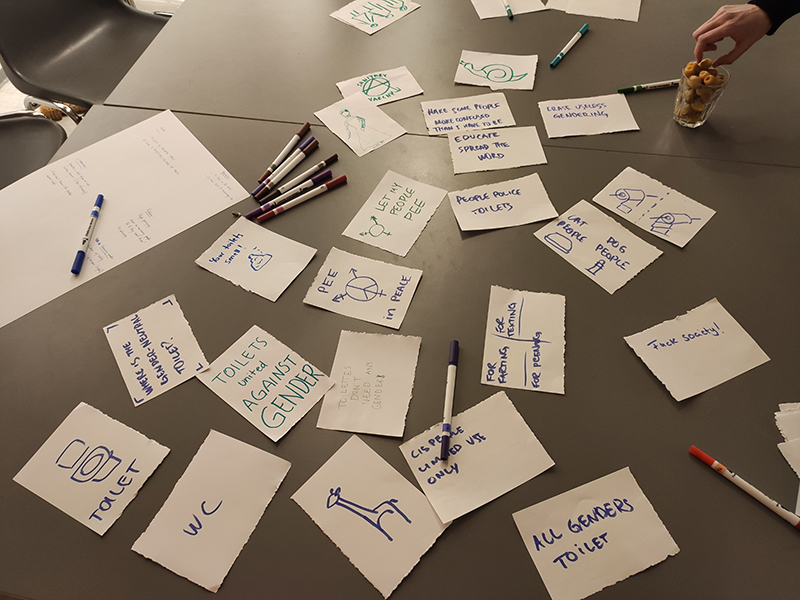 There were many ideas and then Kai used their amazing graphic design skills to create some designs we could use. The group voted for the results and these were the winning stickers, which are now printed.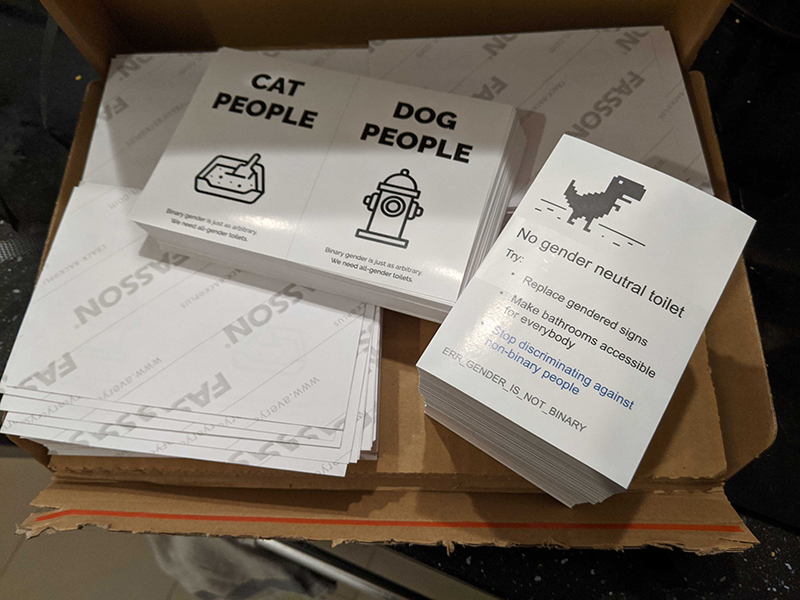 How to use these stickers
Keep in mind that some people still need gendered toilets (for example, for safety or for religious reasons).
We recommend to replace gendered signs with our stickers only when:
There are only single stall toilets, or
There are only gendered toilets nearby
You can always put the stickers next to the sign.
Get them
If you would like to have some printed versions, they will be available for pick up at our meetups or at the Queer Zine Fest in May. Come by and pick them up!
If you like the designs and want to print them yourself, below you can download the PDF ready to print.
Last update: 2020.03.04